You might have to have Google Earth or a similar program installed on your device to open this file. I suggest to install it. You might need it for other purposes as well.
---
20.02.2019
All clear.
Looks like I can give an all clear signal concerning the cyclone "Oma". I feel relieved. 
This ist the latest news from the weather forecast:
"Severe Tropical Cyclone Oma has made a sudden change in direction and is now bearing down on Brisbane and the Gold Coast."
Oma is moving southwest towards Queensland, Australia, and not southeast towards New Zealand. If Oma stays on that predicted course, I'll be safe here.
My cruise will lead me along the coast of Queensland as well, but that will be around beginning of April. 
It might be good that they get the cyclone there now, so that when I get there, it'll be gone by then. And it's not very likely, that they will get another one in the same area. You neither hit the jackpot twice within one season. (OK – I admit- I'm smooth-talking the danger.) 😉
Thanks for all the good wishes and prayers. It worked out.
Instead of a cyclone picture, I give you a beautiful shot of the beloved Faule Haut.
Skipper Ingo on sailboat Faule Haut at Opua, northern New Zealand.

---
19.02.2019
Cyclone threat.
Actually – I do have enough problems with my broken anchor windlass and replacing almost all of my running rigging.
But it looks, I have another problem:
The fisherman that helped me to work on my broken windlass just came over to my boat while I was having breakfast to tell me that there is a cyclone at New Caledonia which is heading south and expected to reach northern New Zealand. That's why I got ashore to check the weather on the internet to see what's going on. Looks like he is right. 
I have to check the weather constantly now and make emergency plans in case it's really coming this way.
Cyclone season lasts until the end of April in this area.
A Screenshot from my weather app: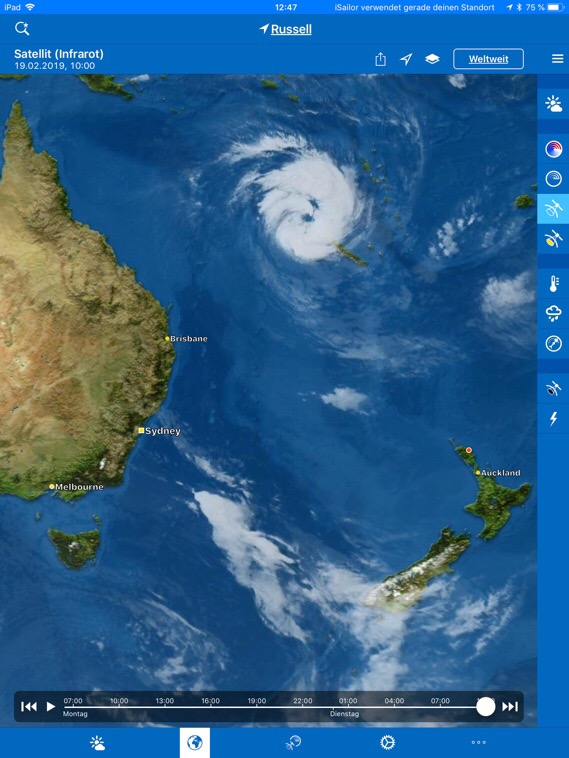 ---
18.02.2019
How the Skipper looks at the world

.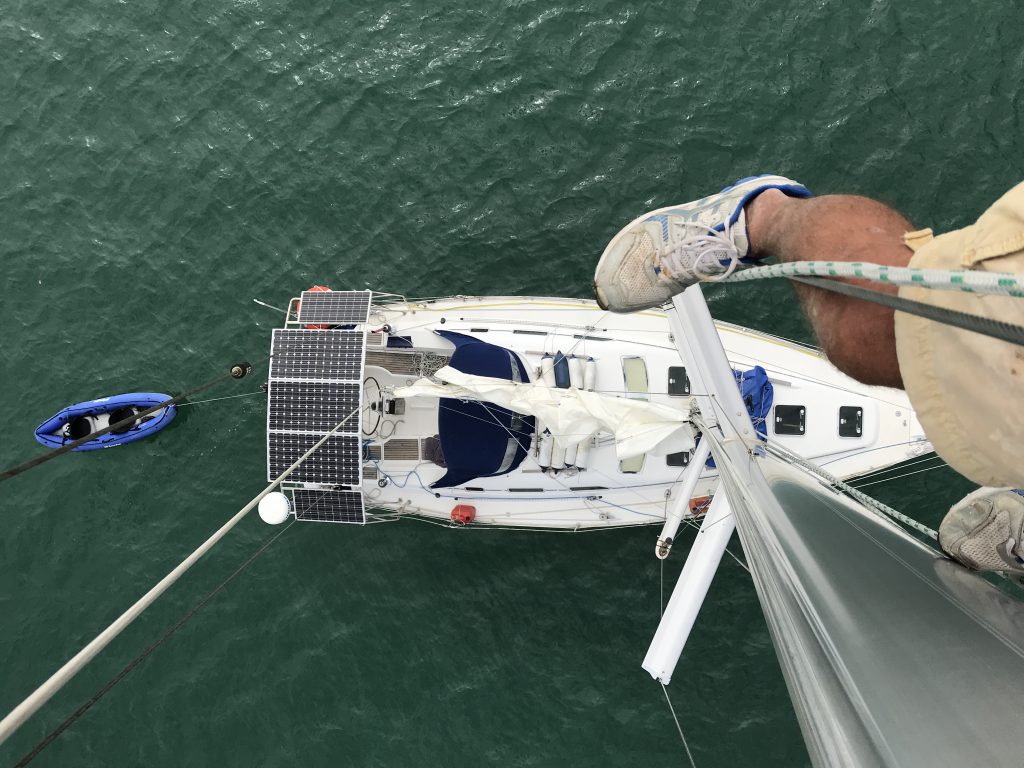 I had to climb up the mast three times to work on my lazy jack lines and to install a new halyard. No one  there to winch me up. I'm totally worn out, and relax on the beach now.
---
06.02.2019
⛵️Faule Haut has reached New Zealand.
After having spent six days at the Kingdom of Tonga 🇹🇴, ⛵️Faule Haut left the island Tongatapu on Jan. 29th, 2019 and reached Opua, (northern) New Zealand 🇳🇿 on Feb 6th, safe and sound. This was ⛵️Faule Haut's fastest passage so far. She covered the distance of 1,025 nm within 8 1/2 days, averaging a speed of little over 5 kn. Windspeed was mostly above 25 and 30 kn, so that the sails had to be reefed almost permanently. High waves and gusty winds from abeam made it a tough ride. Wind and waves – which the autopilot often could not handle. It quit working often and made the nights a drag. Jumping on deck in the middle of the night because of an alarming and not functioning autopilot is no fun and wears you out after a few nights. Sleep deprivation is the hardest thing to endure when singlehand sailing and has exhausted Skipper Ingo up to the max. But now he has dropped the anchor in a beautiful bay at LAT 35° 07.022' S, LON  173° 58.931' E, close to Opua, and is looking forward to meeting the Kiwis – but first … sleeeeeeeep.😴💤
Oh – I almost forgot:
SOMETHING TO CELEBRATE
⛵️Faule Haut has left her home port Vinaròs, Spain🇪🇸, on Nov. 4th, 2017. Vinaròs is located close to Longitude 000°, the Greenwich 000°-meridian. She sailed westward, which means longitudes were "W" and counting upwards. On Jan. 23rd she crossed the International Dateline close to Tonga and on Feb. 2nd  she crossed LON 180° W which is likewise LON 180° E. 
This means, that SHE HAS NOW COMPLETED HALF OF HER PLANNED CIRCUMNAVIGATION OF THE GLOBE, 😎😁🤗 being on her cruise for one year and three months and two days (or 459 days).
From now on LON figures are "E" and … counting backwards. 
Feels like the skipper is sailing home now.🤗