---
SY Faule Haut
(Scroll nach unten für die deutsche Version. Scroll down for German version.)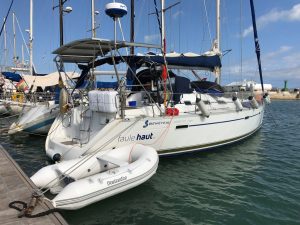 Manufacturer: Bénéteau S. A., France
Model: Oceanis 393 Clipper, Year built: 2003, first splashed: 2004
Length: 39 feet, 11.96 m
Width: 12 feet, 3.96 m
Depth: 2,20 m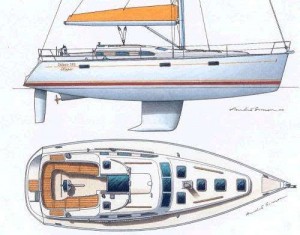 Height of Mast: 16 m above the deck
Sails: 75 square meters
3 Double berth (2 astern, 1 at the bow with its own separate bathroom),
a second bath astern, which means 2 bathrooms all together
Safe oceangoing yacht according to the European CE-Category A (= highest Category for pleasure craft)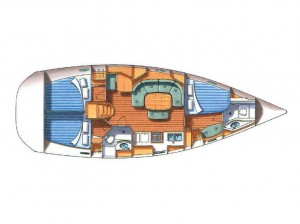 Max. person on board: 12 (coastal)
Max. person on board: 8 (offshore/worldwide)
We stop at 6 person
Water Capacity: 430 Ltr.
Diesel capacity: 150 ltr.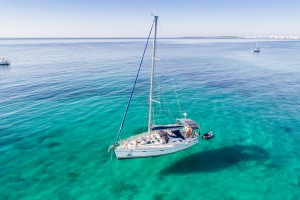 Motor: Volvo Penta D2-55, 55 HP/40kW
Chart plotter: Raymarine
Autopilot: Raymarine
Wind Instrument: Raymarine
Log: Raymarine
Sounder: Raymarine
Paper charts
Electronic charts  on iPhone and iPad
Radar: FURUNO DRS
GPS: 1 x in iPhone, 1 x in iPad, 1 x in board computer, 1 x in AIS, 1 x im chart plotter/autopilot, 1 x Garmin 72, 1 x in sea radio installed, 1 x in mobile sea radio (both radios with DSC (Digital Selective Call) (8 GPS all together)
Sextant with celestial tables
AIS: send & receive
Photovoltaik: 725 W peek installed; enough to keep the fridge running 24/7 and enough to not depend on shore power
Dinghy (5 persons) with outboarder 6 HP
Sevylor kayak for 2 persons
Hydrovane/windpilot = mechanical autopilot, steered by wind, no need of electricity
SAFETY EQUIPMENT:
Life raft for 8 person
6 life jackets, automatic inflatable
3 rigid life jackets for adults
3 rigid life jackets for kids
Jackstay, port and starboard
EPIRB ("Emergency Position Indicating Radio Beacon""
Flares, parachute rockets, smoke signals, water coloring cartridges (6 of each)
Electronic flares and distress signals
2 Fire extinguishers
Fire blanket
Electronic gas leak warner
Electrical and manual bilge pump
Man-over-board buoy
Mobile generator 2,000W to charge the batteries if needed
Registered nurse on board (ok – I admit – only if my wife is on board)
————————————————————————————————-
Die Yacht  "Faule Haut"
Hersteller: Bénéteau S. A., Frankreich Bootstyp: Oceanis 393 Clipper Baujahr: 2003 / Erstwasserung: 2004 Länge: 11,62 m
Breite: 3,96 m
Tiefe: 2,20 m
Masthöhe: 16,00 m über Deck
Segel: ca. 75 m2
3 Doppelkabinen: 2 x im Heck, 1 x im Bug (mit separatem zugehörigen Bad/WC)
ein weiteres Bad/WC im Heck (somit 2 Bäder/WCs insgesamt)
Hochseetauglich gemäß CE-Kategorie: A (=höchste Seetauglichkeitsstufe für Sportboote)
Max. erlaubte Personen an Bord: 12, bei Küstentörns
Max. erlaubte Personen an Bord: 8, weltweite Fahrt
(wir machen aber bei 6 Personen Schluss)
Wasser: 500 ltr
Diesel: 150 ltr
Motor: Volvo Penta D2-55, 55PS/40 kW
Kartenplotter: RAYMARINE
Autopilot: RAYMARINE ST6001+
Windanzeige: RAYMARINE
Logge: RAYMARINE
Echo Sounder/Tiefenmesser: RAYMARINE
Papierkarten: Spanien, Balearen, Kanarische Inseln55
Elektronische Seekarten auf iPhone und iPad: gesamtes Mittelmeer
Elektronische Seekarten auf Bordcomputer: Open CPN mit Weltkarte
Radar: FURUNO, mit WLAN-Overlay auf iPad + iPhone)
GPS: 8 Stück ! ! !
(1 x im iPhone, 1 x im iPad, 1 x im Bordcomputer, 1, im AIS, 1 x im Kartenplotter/Autopiloten, 2 mal im Garmin, 1 mal im festinstalliertem Funkgerät, 1 x im Hand-Funkgerät (beides mit DSC)
Sextant an Bord, falls die Amis mal das GPS ausschalten oder scrambeln ;-))
Bordcomputer mit AIS, Transponder, "Senden und Empfangen".
Photovoltaikanlage: so groß dimensioniert, dass wir autark sein werden, den Kühlschrank nie abschalten müssen und keinen Hafen benötigen um die Batterien zu laden.
Dinghi mit Außenborder 6 PS
Sevylor-Kajak für 2 Personen
Hydrovane/Windpilot = mechanischer Autopilot der rein windgesteuert und ohne Elektrik/Elektronik funktioniert
Sicherheitsausrüstung:
Rettungsinsel für 8 Personen, (Neu, Mai 2017 gekauft) 6 automatische Schwimmwesten,
3 Feststoffwesten, für Kinder
Jackstay + Anleinmöglichkeit für alle Westen
EPIRB ("Emergency Position Indicating Radio Beacon" = Seenotfunkbarke) Pyrotechnische und elektronische Notsignale
Feuerlöscher, Löschdecke
Elektronische Gaswarnanlage/Sensor
Elektronisches Leckwarngerät
Elektrische und manuelle Bilge-Pumpen Handsprechfunkgeräte mit DSC und GPS Mann-über-Bord-Boje, beleuchtet Rettungsring/Kragen
Mobiler Generator, "Honda EU 20i", 2 kW, als Notlader 1 Krankenschwester an Bord
(OK! Zugegeben. Nur wenn meine Frau an Bord ist)