You might have to have Google Earth or a similar program installed on your device to open this file. I suggest to install it. You might need it for other purposes as well.
---
18.02.2019
How the Skipper looks at the world

.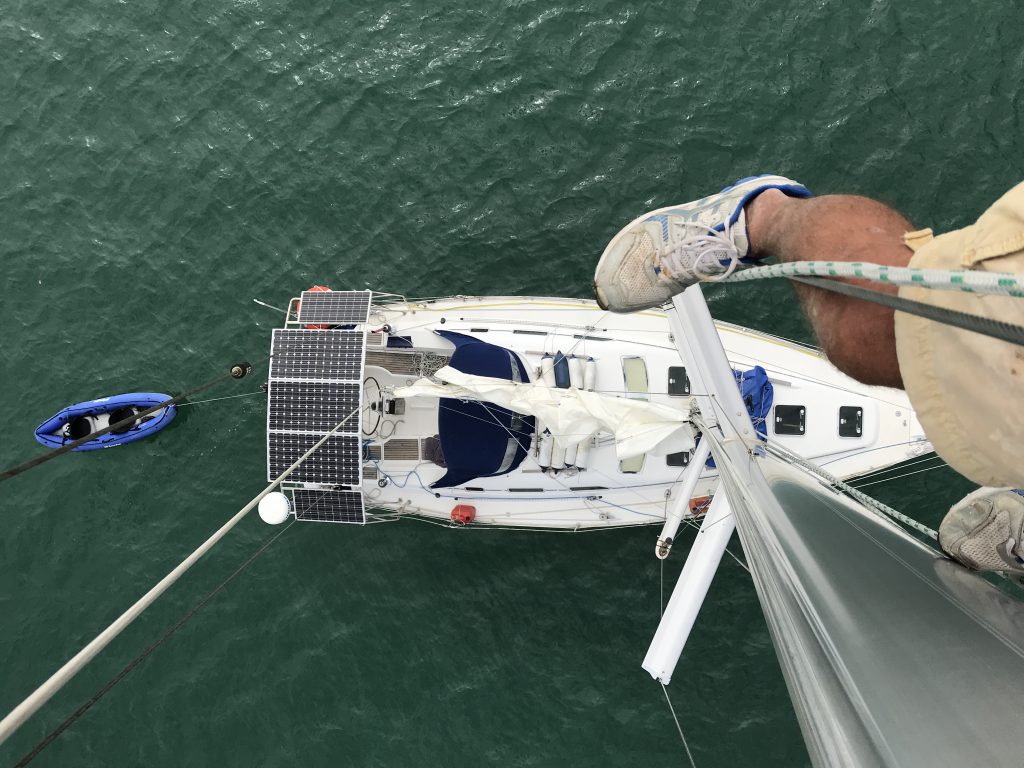 I had to climb up the mast three times to work on my lazy jack lines and to install a new halyard. No one  there to winch me up. I'm totally worn out, and relax on the beach now.
---
06.02.2019
⛵️Faule Haut has reached New Zealand.
After having spent six days at the Kingdom of Tonga 🇹🇴, ⛵️Faule Haut left the island Tongatapu on Jan. 29th, 2019 and reached Opua, (northern) New Zealand 🇳🇿 on Feb 6th, safe and sound. This was ⛵️Faule Haut's fastest passage so far. She covered the distance of 1,025 nm within 8 1/2 days, averaging a speed of little over 5 kn. Windspeed was mostly above 25 and 30 kn, so that the sails had to be reefed almost permanently. High waves and gusty winds from abeam made it a tough ride. Wind and waves – which the autopilot often could not handle. It quit working often and made the nights a drag. Jumping on deck in the middle of the night because of an alarming and not functioning autopilot is no fun and wears you out after a few nights. Sleep deprivation is the hardest thing to endure when singlehand sailing and has exhausted Skipper Ingo up to the max. But now he has dropped the anchor in a beautiful bay at LAT 35° 07.022' S, LON  173° 58.931' E, close to Opua, and is looking forward to meeting the Kiwis – but first … sleeeeeeeep.😴💤
Oh – I almost forgot:
SOMETHING TO CELEBRATE
⛵️Faule Haut has left her home port Vinaròs, Spain🇪🇸, on Nov. 4th, 2017. Vinaròs is located close to Longitude 000°, the Greenwich 000°-meridian. She sailed westward, which means longitudes were "W" and counting upwards. On Jan. 23rd she crossed the International Dateline close to Tonga and on Feb. 2nd  she crossed LON 180° W which is likewise LON 180° E. 
This means, that SHE HAS NOW COMPLETED HALF OF HER PLANNED CIRCUMNAVIGATION OF THE GLOBE, 😎😁🤗 being on her cruise for one year and three months and two days (or 459 days).
From now on LON figures are "E" and … counting backwards. 
Feels like the skipper is sailing home now.🤗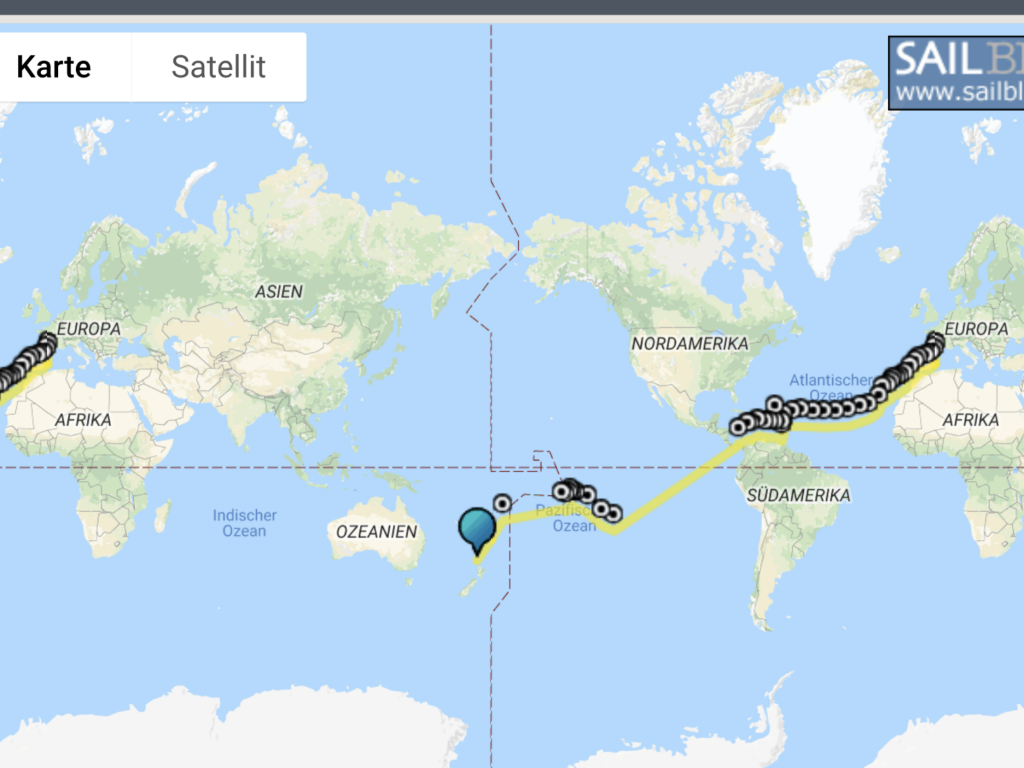 Skipper is sailing singelhand. Two free double berths available.
CRUISINGPLAN as of 06.02.2019
Right now I am in New Zealand. I am on a circumnavigation that I started with two friends at Vinaros (Barcelona), Spain, on the 4th of Nov. 2017. But from the Caribbean on, I have been sailing singelhand.
Because I spent a huge sum on repair/maintainance/improving of the boat, I am willing to take on guests to help me finance this cruise. You can either join for two week on the boat or you even stay on the boat for over a year and a half and come with me up to Spain.
Two double berths available. This means I could host two guests – each gets his own cabin – or if two person share one cabin, I could host four guests.
Here is my cruising plan which is not 100 % fixed. If you stay on the boat longer than a couple of weeks, I am willing to change this plan according to your wishes (within a limit).
---
CRUISINGPLAN  as of 18.02.2019
SUBJECT TO CHANGE    (nm = nautical miles,  d= day)
22.02.19 departure New Zealand
1,200 nm 15 d
09.03.19 arrival Sidney, Australia
20.03.19 departure Sidney
1,800 nm 21 d
10.04.19 arrival Torres Strait
12.04.19 departure Torres Strait
1,800 nm 21 d
03.05.19 arrival at Bali, Indonesia
(sailing Malaysia, Indonesia, Malaysia, Thailand in June, July and August 2019; my wife might come on board for a few weeks)
30.08.19 departure of the area around Indonesia, Malaysia, Thailand
3,300 nm  37 d  (crossing the Indian Ocean)
06.10.19 arrival Mauritius
10.10.19 departure Mauritius
400 nm 5 d
15.10.19 arrival Réunion
19.10.19 departure Réunion
400 nm 6 d
25.10.19 arrival Madagascar
03.11.19 departure Madagascar
1,600 nm 20 d
23.11.19 arrival South Africa
03.12.19 departure South Africa
5,720 nm 65 d  (crossing the Atlantic towards the Caribbean)
06.02.20 arrival (Guadeloupe or another island of the Lesser Antilles)
15.02.20 departure Guadeloupe
…..
most likely going to Dominican Republic, Haiti, Cuba and Bob Marley 🤗 before heading back to Vinaròs, Spain, Mediterranean via Bahamas and the Azores