You have to have Google Earth or a similar program installed on your device to open this file. I suggest to install it. You might need it for other purposes as well.
---
12.06.2019
Faule Haut has reached Bali, Indonesia
after having sailed 1,200 nm from Darwin, Australia, singlehand Skipper Ingo reached Bali Marine, Bali, Indonesia just in time to meet his wife Gerdi.
---
13.06.2019           –           REUNION
Faule Haut Skipper Ingo meets his wife after 19 (nineteen !) month of sailing half way around the world. Great joy and honeymoon on Faule Haut. 🤗😉😜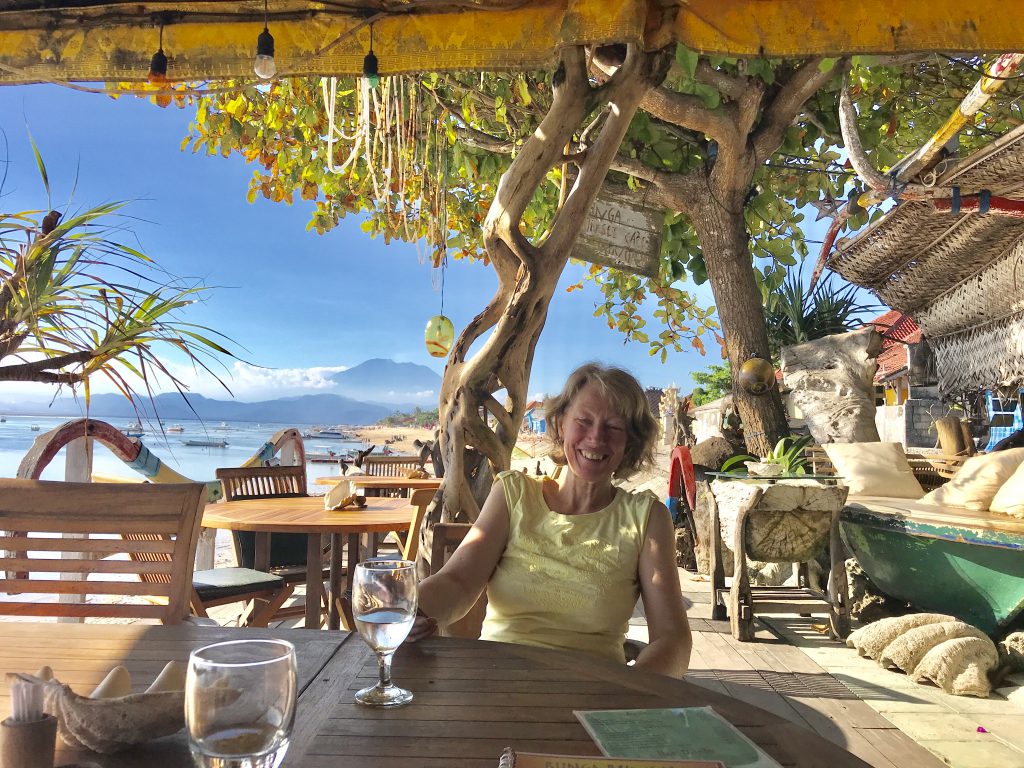 Gerdi at Lembongan, a neighboring island of Bali, Indonesia.
---
A  beach bar at Lembongan: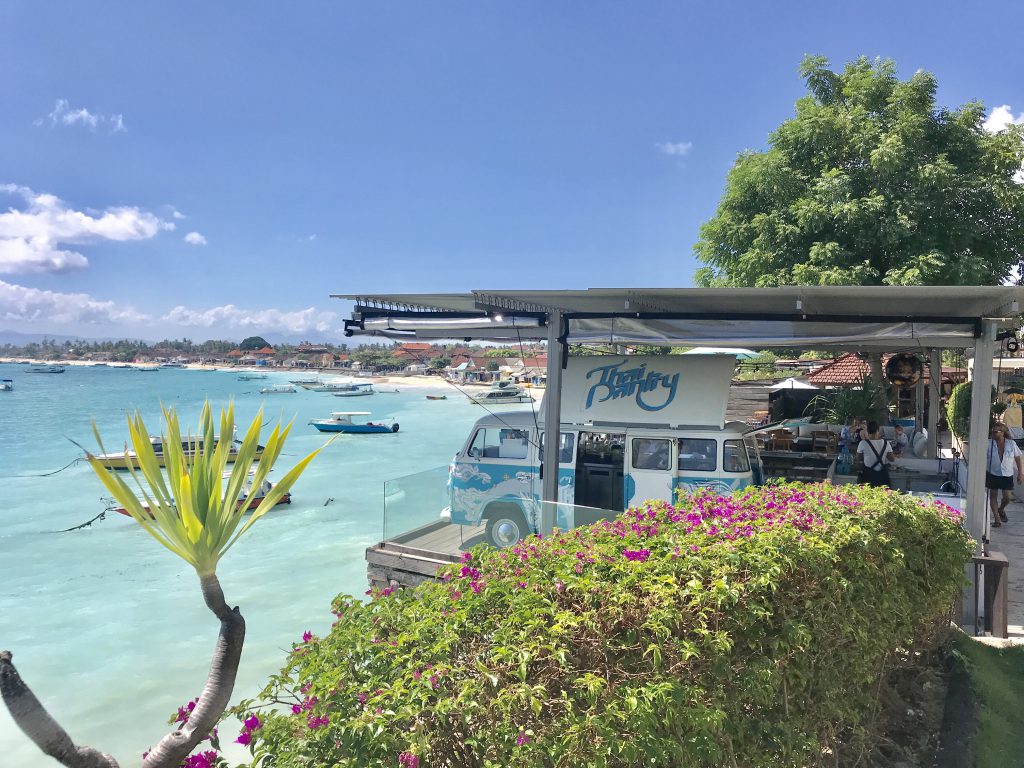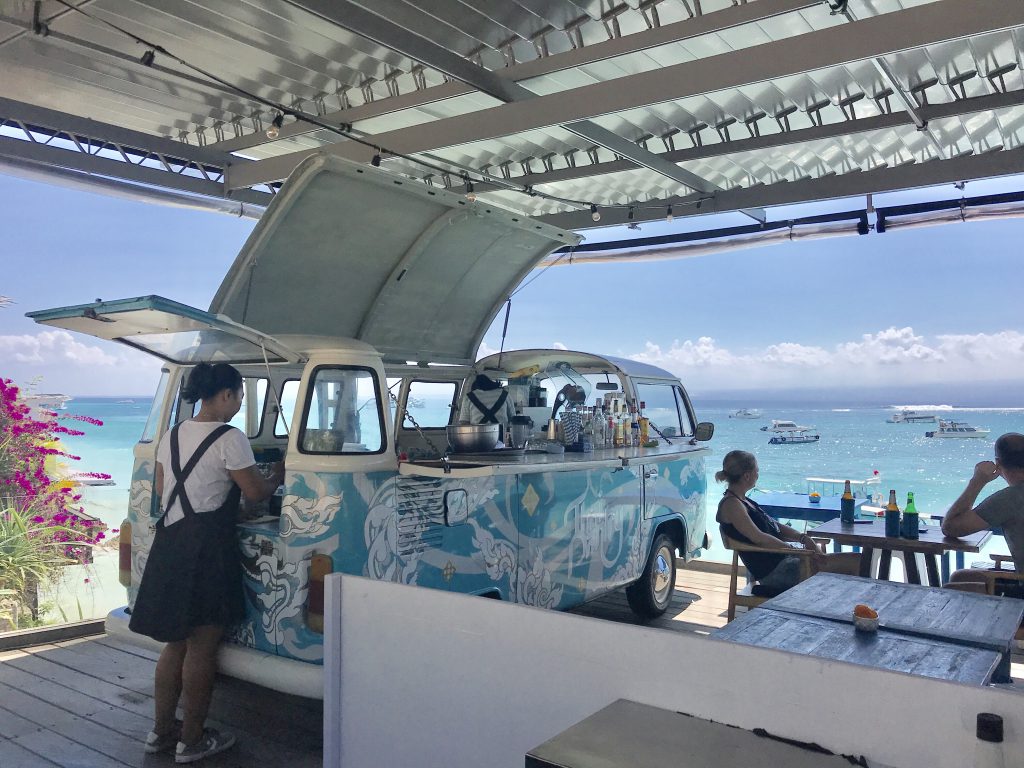 ---
08.06.2019    –    
FAULE Haut close to another disaster
A question to all the technicians/mechanics:
When do things/materials break or fall apart? Under load, or at the state of rest? Under load! Yes! But not so on Faule Haut.
I experienced strong winds for over three weeks now, almost every day on my cruise from Darwin, Australia to Bali, Indonesia. In those winds I hardly used the main sail, only the storm jib and sometimes as well a little piece of genoa. Winds were around 35 to 40 knots with the exception of one entire night, when it got up to over 60 nasty knots, when even the autopilot refused to do its work. On June 7th the wind calmed down to 25 knots and I got the main sail up as well. Next morning Faule Haut ran into a dead calm and got stuck in the doldrums. Wind from dead astern, 3 to 5 knots, that's close to nothing. I left the sails up, making one knot of speed over ground but not because of the wind, but because of the current that went – luckily – the same direction as I wanted to sail.
On June 8th I was in the pantry standing at the stove, when suddenly I heard a strange crack and a washer fell through the open deck-light/window on my head. I got on deck to see what had happened and saw the boom disattached from the mast. A safety pin that secured a bolt which is supposed to hold the boom to the mast was gone. The bolt had slid out so that the boom had no connection to the mast anymore.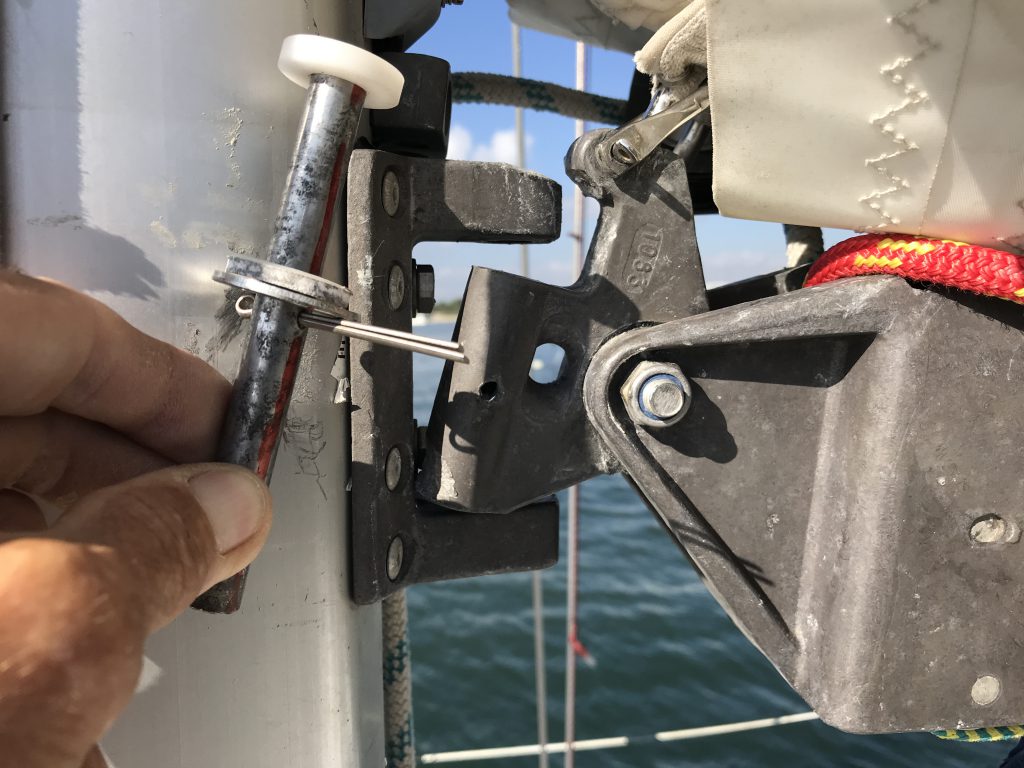 The bolt that fell out with a (new) locking pin.
This happened in the doldrums, meaning no wind going. No load or force working on the mast. Had this happened a few days earlier when I was under full sails in those strong winds, "the sh!t would have hit the fan".
Definitely –  my lazy jack lines would have been torn off, both, starboard and port. They are not sized to support the load of the boom plus the main sail plus the force of the wind blowing into the open sail. And most likely the vang/boom kicker would have broken. Had this happened during the stormy night, when it was blowing over 60 knots, the main sail would also have been torn off the sliders that run up the mast leaving me with a torn off sail, unable to repair on the open sea. The boom would have bounced violently against the mast causing further damage.  You would agree if you had seen the forces that were working on deck in 60 knots of wind, when you almost get blown off the deck.
So it seems, physical laws do not apply on Faule Haut but are suspended from time to time. On Faule Haut things don't fall apart under load, but at rest, in order to protect the boat and her skipper!
Go ahead and draw your own conclusion!
(Exactly the same thing happened a few weeks ago with my old anchor, that broke apart while it was resting on deck on a tarpaulin and not on the seabed holding the boat (see story on www.faule-haut.de 2019-04).
(And – for Patrick:  No! It was not the hobgoblin/Klabautermann that helped me! 😉)
---
Come sail with me!
I am a German singlehand skipper on a circumnavigation that I started at Vinaros (Barcelona), Spain, on the 4th of Nov. 2017.
Because I spent a huge sum on repair/maintainance/improving of the boat, I am willing to take on guests to help me finance this cruise, otherwise I would have to sell the boat and fly back home.
You can either join for two week on the boat or you even stay on the boat for over a year and a half and come with me up to Spain.
Two double berths available. This means I could host two guests – each gets his own cabin – or if two person share one cabin, I could host four guests.
Here is my cruising plan which is not 100 % fixed. If you stay on the boat longer than a couple of weeks, I am willing to change this plan according to your wishes (within a limit).
If you are interested, contact me via WhatsApp: +491726610537
or email: patalla@patalla.de
More info's about the boat and me on: www.faule-haut.de
Ingo Patalla
CRUISINGPLAN as of 27.06.2019
Sailing around Indonesia in June, July and August 2019 with my wife.
On from the 30th of August the skipper will be alone again on the boat, which means:
Two double berth available.
30.08.19 departure Jakarta or Bali, Indonesia
3,300 nm 37 d (crossing the Indian Ocean)
06.10.19 arrival Mauritius
10.10.19 departure Mauritius
400 nm 5 d
15.10.19 arrival Réunion
19.10.19 departure Réunion
400 nm 6 d
25.10.19 arrival Madagascar
03.11.19 departure Madagascar
1,600 nm 20 d
23.11.19 arrival South Africa
03.12.19 departure South Africa
5,720 nm 65 d (crossing the Atlantic towards the Caribbean)
06.02.20 arrival (Guadeloupe or another island of the Lesser Antilles)
15.02.20 departure Guadeloupe
…..
most likely going to Dominican Republic, Haiti, Cuba and Bob Marley and then back to Spain, Mediterranean via Bahamas and the Acores.
---