After having sailed 2,577 nm singelhand from Sint Maarten, Skipper Ingo has delivered a boat and tied it up at the dock at the port of Vila do Porto on Santa Maria, the most southern island of the Azores. on June 15, 2023, 03:30.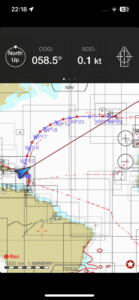 The delivery cruise was full of problems on from the start: Motorproblem was the first. The boat had to get out of the water to fix it. Then Skipper Ingo left with one crew three days later. Crew turned out to not being fit for the cruise and after having sailed 15 nm Skipper Ingo sailed back and dropped him at Sint Maarten. He had to sail back anyway, because the car (an importent part of the in-mast-furling system for the main sail) on the traveller on the boom lost it's bearings and was ripped of the boom. Two days later the skipper mounted the repaired car on the traveller and took off alone. Heading for Ponta Delgada on the island São Miguel, Azores.
Then the chartplotter broke down, and with it also the important AIS. Also on from the beginning, the first day, the Skipper noticed that the batteries were bad. They couldn't hold the charge for long. Fridge had to be turned off in the afternoon already. Later it couldn't be turned on at all. All battery power was used for the autopilot to steer the boat. One battery was completely flat after 2 weeks. Skipper disconnected it and had only one battery left which was bad as well. On the last day this one was totally flat also. This meant that the motor would have to run permanently to supply energy for the autopilot. The alternativ would have been to steer the boat manually 24/7. But that would have been tough for the singlehand skipper. Luckily he used his motor power/fuel wisely so that he could motor the last ten hours to his destination. Destination was changed to the island Santa Maria, because there was no space available at the port at Ponta Delgada, São Miguel.
Skipper Ingo is looking forward for a long night of sleep after 24 consecutive days on the ocean.
Skipper Ingo's happy arrival at 03:30 at night.