Actually, I was gonna be on my way to Pitcairn Island, but I already got stuck in the doldrums. Looks like they started already here at Panama. I'm already to close to the equator.
Well – that's sailing.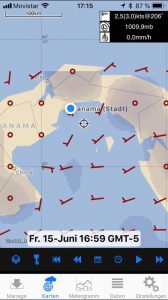 According to my weather map, I would find wind about 600 nm further south. But I'm on a sailing boat. I can't motor down south for six days. Ain't got no other choice but to wait for the wind/weather to change. But the forecast is not in my favor. I might be stuck here for a few days.
I moved to another anchorage, because I was lookin for Wifi.
Currently I'm in a bay facing Panama City, as you can see on the picture. The sea is flat. No wind going at all.
Kinda tricky. I drove very slowly along the coastline checking permanently my water depth and my smartphone WLAN settings.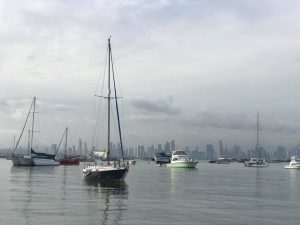 Right now I'm just 150 ft from the shore anchoring and picking up a free Wifi with my super duper "Bad Boy Antenna", which I bought and installed at Saint Martin.
I'm a lucky guy. A little bit risky though, being so close to the shore, because of the water depth. For staying overnight, I will have to anchor further out.
OK. That's it.
As soon as you won't hear anything from me, you know that I have left this spot heading for Pitcairn.
—————————————-