⛵️Faule Haut has reached New Zealand.
After having spent six days at the Kingdom of Tonga , ⛵️Faule Haut left the island Tongatapu on Jan. 29th, 2019 and reached Opua, (northern) New Zealand on Feb 6th, safe and sound. This was ⛵️Faule Haut's fastest passage so far. She covered the distance of 1,025 nm within 8 1/2 days, averaging a speed of little over 5 kn. Windspeed was mostly above 25 and 30 kn, so that the sails had to be reefed almost permanently. High waves and gusty winds from abeam made it a tough ride. Wind and waves – which the autopilot often could not handle. It quit working often and made the nights a drag. Jumping on deck in the middle of the night because of an alarming and not functioning autopilot is no fun and wears you out after a few nights. Sleep deprivation is the hardest thing to endure when singlehand sailing and has exhausted Skipper Ingo up to the max.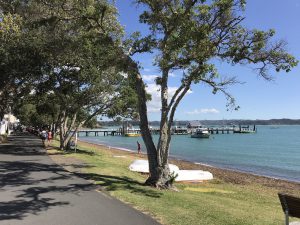 But now he has dropped the anchor in a beautiful bay at LAT 35° 07.022' S, LON 173° 58.931' E, close to Opua, and is looking forward to meeting the Kiwis – but first … sleeeeeeeep.