Actually – I do have enough problems with my broken anchor windlass and replacing almost all of my running rigging.
But it looks as if I have another problem:
The fisherman that helped me to work on my broken windlass just came over to my boat while I was having breakfast to tell me that there is a cyclone (named "Oma") at New Caledonia which is heading south and expected to reach northern New Zealand. That's why I got ashore to check the weather on the internet to see what's going on. Looks like he is right.
I have to check the weather constantly now and make emergency plans in case it's really coming this way.
The cyclone season lasts until the end of April in this area.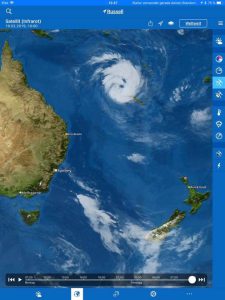 The red spot north of Auckland shows my position.
Skipper Ingo on sailboat Faule Haut.
www.faule-haut.de