All clear.
Looks like I can give an all clear signal concerning the cyclone "Oma". I feel relieved.
This ist the latest news from the weather forecast:
"Severe Tropical Cyclone Oma has made a sudden change in direction and is now bearing down on Brisbane and the Gold Coast."
Oma is moving southwest towards Queensland, Australia, and not southeast towards New Zealand. If Oma stays on that predicted course, I'll be safe here.
My cruise will lead me along the coast of Queensland as well, but that will be around beginning of April.
It might be good that they get the cyclone there now, so that when I get there, it'll be gone by then. And it's not very likely, that they will get another one in the same area. You neither hit the jackpot twice within one season. (OK – I admit- I'm smooth-talking the danger.)
Thanks for all the good wishes and prayers. It worked out.
Instead of a cyclone picture, I give you a beautiful shot of the beloved Faule Haut.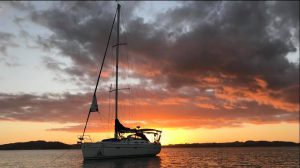 Skipper Ingo on sailboat Faule Haut at Opua, northern New Zealand.