Looks like Faule Haut Skipper Ingo and his crew Gerdi and Brigitte have found friends  for life in Java, Indonesia.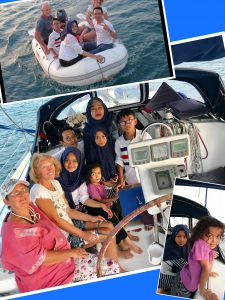 Arie, the guy that helped us with lots of efforts to get our visa for Indonesia extended came to us yesterday and drove from Cilegon south to the bay Tanjung Lesung just to bring us our passports with the visa stamp. Distance is just little over 100 km but traffic is terrible here and roads are bad and under construction so that took him almost five hours to get here. We met his lovely family a few days earlier when we stayed over night at his house in Cilegon to be able to visit immigration office at the appointed time early in the morning.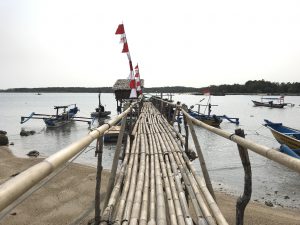 Arie can be proud of his family. He has a nice wife and four lovely kids. I drove twice with the dinghy to bring them and my crew over to Faule Haut, but later when they left it was dark and we drove with three adults and four kids in my dinghy.
The kids were very brave and were not scared driving the dinghy in the dark. Also they managed well to get off the dinghy and climb up the fishermen's dock, with the help of some fishermen.
Thank you, Arie, and your family for this special day.