Lottery on Faule Haut
Be a Winner!
If you tell me what we, the crew of Faule Haut, gonna eat today and tomorrow, you win a cruise over the Indian Ocean, on the circumnavigation yacht Faule Haut.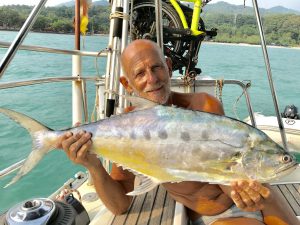 Starting from:  Carita Bay, Java, Indonesia.
Starting date:  30th of August 2019.
Destination:  Mauritius (island close to Madagascar)
Distance: 3,300 nm (just around the corner)
Estimated Travel Time: only 36 days
ETA: 06.10.2019
Journey to the starting point has to be payed by lottery participant.
Lottery valid until 30th of August 2019,  12:00 o'clock.
Good luck!