August 1st 2019
Im on my way to Tanjung Lesung, where I was a few days ago with Gerdi and Brigitte. Two more hours left. There I will continue on cleaning the hull. I have to scratch off these barnacles before it's too late. If I don't do that, it would slow me down considerably. I think I could gain 0.5 or even 1 knot of speed if the hull is clean.
On a passage of 33 days this would mean that I shorten the cruise by 3 to 6 days . I also have to replace my sacrificial anode on the propeller.  To bad, I can't use my scuba gear, because on my full air bottle the o-ring is broken. That's a 30-penny-item, but you can't by a new one here. This means I will have to do the work by freediving. That's very exhausting and takes  ten times the time.
It will be about 3,300 nm to Mauritius – I estimate 33 days, probably less, because according to the Pilot Charts, the trade winds are supposed to be pretty strong in the Indian Ocean.
I will probably stay one or two more days at Tanjung Lesung for the work.
I got drinking water two days ago. A young fellow offered me his help and took 8 bottles (19 liter each) on his scooter to Faule Haut, driving three times. Two more bottles were taken to the boat by the vendor girl of the supermarket, also by scooter. Indonesians are friendly people and they love foreigners. Very often they ask you to take pictures with them.   
In Tanjung Lesung, I will fill up the water tanks with water for dishwashing/showering, like we did before. I'd like to leave with full tanks.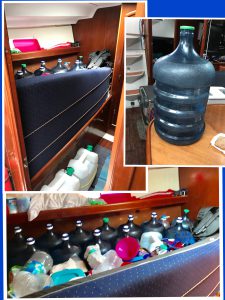 I placed my water bottles on the bed at the bow, like I did at Panama.