I was so happy about my new, my second, Indonesian whiskerpole, but this happiness was of a short duration. It worked well for two days, but then it broke during the night.
On my first pole, the metal attachments at the ends broke off. So on the second one I started a different approach and attached a grommet not by a metal bolt, but by a set of strings or little ropes. This was the right thing to do, and I was pretty sure that these new attachments would not come off. But what I did not expect, was that the pole was too thin in diameter.
I woke up in the morning, because I noticed that the boat was behaving strange. Lying in bed, I could sense it by the different motion, the speed and the heeling. When I stepped on deck, I saw that the pole was broken.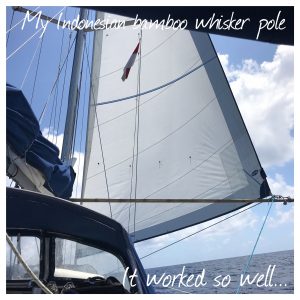 That's a pity, because it had helped me gain between 0.5 and 1 knot of speed in light winds. This means a roughly ten percent speed increase. Over a period of 30 days sailing (e. g. here from Indonesia to Mauritius), you are looking at a shorter voyage, shortened by three days.
Well – sh!t happens. Looks like I have to keep on sailing without a whiskerpole.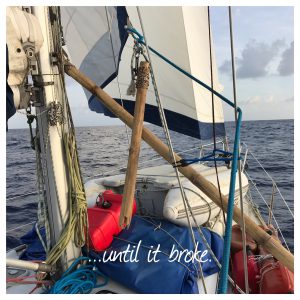 Unless someone feels so inclined to help me poor circumnavigator to get a new real one made of aluminum.
Donors are welcome. In case you wanna help, let me know and I will send you the specifications and shipping address.