Faule Haut Skipper Ingo has met a German Couple yesterday at a bay at Mauritius, Steffen and Eva. They are on a vacation on this island. I told them I would be on a cruise to Reunion and invited them to join. To my surprise the agreed. So we had to arrange our departure. They had a rented car and drove back to their hotel while I set sail and sailed back to Port Louis. This was necessary because we had to visit customs and immigration there to put their names on my check out paper. This we have done today and we are right now leaving Port Louis, heading for the island Reunion. We will stay there four or five days and come back to Mauritius.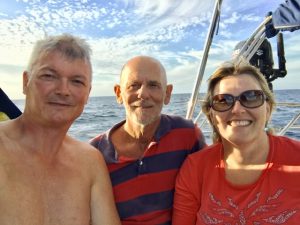 Before they came to the boat they went to a supermarket to provision. Fridge and pantry are filled up generously.
Those two are nice people and we are having lot of fun already. We are all looking forward to what's coming next. I think, we get to eat some fish on that cruise because Steffen is a passionate fisher and has put the rod out already.