At Tuzi Gazi, Richard's Bay.
There is a well known rule for sailing: Never have a schedule!
Among the boats here at Port Tuzi Gazi at Richard's Bay, South Africa, there are about 25 that are going to make the same passage to Cape Town like me. Everybody I talked to, has contact with the weather guru Des Cason and is listening to his advice. We are all waiting for a change of the weather.
I check it every few hours, but it doesn't look favorable.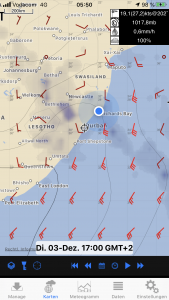 On Monday it looks as if it starts to get better, but on Tuesday, the winds are blowing from the south right against the Agulhas Current. And this with a speed of 30 knots.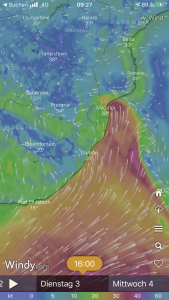 That's exactly the weather pattern that produces these notorious rough waves. I wouldn't mind waiting, but I'm expecting crew and it's sure now, that I won't make it in time to pick him up as scheduled.