Just another beach at Mallorca. Skipper Ingo dropped his crew at Porto Colom and sailed from there just to the next bay south, Cala Marcala, a small calm and beautiful bay with a few beach bars and restaurants.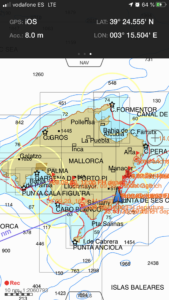 Faule Haut's anchor has just been checked. It's buried deep in sand. So the skipper will have a peaceful night there.
By the way – there is room on the boat FOR YOU until Oct. 15. Hop on a plane and come to Mallorca. Faule Haut takes you any place you like. There are two double berth available. It's still hot at Mallorca and the water temperature is 25°.
Skipper Ingo on SY Faule Haut