I don't want to strain or wear out the word "miracle" again, but, please judge yourself what this was:
Being on the open sea on May 15th, I found a rusty bolt on deck at the stern of the boat. I was thinking where it came from, but I could not figure it out. I thought, someone must have thrown it on my boat at the last anchorage and I forgot about it.
Ever since I got the boat, I was thinking about replacing my old anchor because there is a new generation of anchors on the market with a new design which has been tested and compared to the commonly used predominating anchors on the majority of boats. YouTube videos show the advantage of these anchors over all the others. It's called ROCNA. In Opua, New Zealand, all the boat equipment cost roughly 30 or 50 % less than in Germany. This was a good opportunity to buy the anchor I wanted to have so badly. So I bought that ROCNA, took off the old anchor and attached the new one on the chain. The old one I put on top of the tarpaulin that covered my spare sails on deck, close to the bow. I tied it up with ropes so that it wouldn't move or fall off the deck.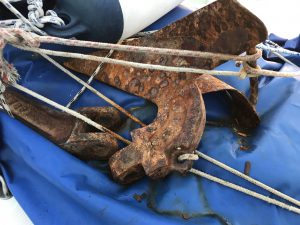 When I got back from the "bio security dock" at Nouméa, New Caledonia, this morning, I sailed to a recommended anchorage and felt happy and safe when I dropped this new ROCNA anchor for the second time. When I went back on deck from my ground tackle to the cockpit I passed my old anchor and saw that is has virtually fallen apart. The anchor that I had tied with ropes on top of the tarpaulin as ONE piece two weeks ago, was resting there in TWO pieces. The shaft had come of the plough. A bolt, which was supposed to hold these two parts together, was gone. I was that rusty bolt that I had found a few days earlier at the stern. It must have fallen out during my cruise, while the anchor was resting on deck.
I have been using and trusting this anchor for more than 15 months, and was shocked to see it fallen apart. Imagine this – my anchor fell apart – resting on deck – not  being used – not under load on the seabed. For sixteen months Faule Haut had been in danger to drift away from the anchorages and get blown against some rocks to crash or get blown away towards the open sea (when I was ashore).
A nightmare. Am I exaggerating when I say that I escaped a catastrophe here? I had to fall on my knees to send a bit THANK YOU to my friend up there.