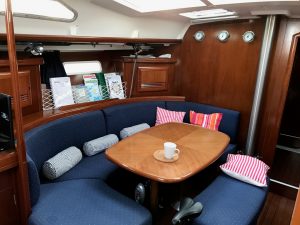 One free double berths is still available.
I am on a circumnavigation that I started with two friends at Vinaros (Barcelona), Spain, on the 4th of Nov. 2017. But from the Caribbean on, I have been sailing singelhand.
Because I spent a huge sum on repair/maintainance/improving of the boat, I am willing to take on guests to help me finance this cruise. You can either join for two week on the boat or you even stay on the boat for over a year and a half and come with me up to Spain.
Two double berths available. This means I could host two guests – each gets his own cabin – or if two person share one cabin, I could host four guests.