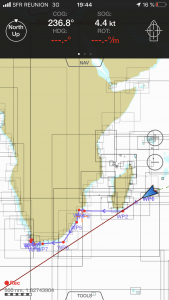 Faule Haut with Skipper Ingo left Réunion an hour ago (08.11.2019), heading to Cape Town, South Africa.
Distance: 2,440 nm
Estimated Travel Time: 26 days
Because of extrem weather conditions south of Madagascar and in the Mozambique Channel, this will be Faule Haut's most dangerous leg on his circumnavigation. The worst will be over once they reach Durban. Up to there it's 1,400 nm without any protection in bad weather. From there on, if need be, they can find shelter in the ports of New London and Port Elizabeth. There is no stop planned at Madagascar.