Faule Haut met Captain Jack Sparrow AKA Johnny Depp – at the Indian River at Dominica, Caribbean, on April 11, 2018.
Well – hmmmm – it was the same as with Ringo – he didn't want to show up – or – well – he probably left already.
Skipper Ingo and his crew Craig took a tour at the Indian River, the biggest river at Dominica.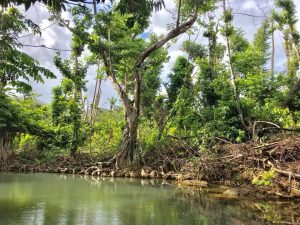 The river starts way up high in the mountains and enters the Caribbean waters at Portsmouth, Prince Rupert Bay.
Currently we are anchoring at Prince Rupert Bay to explore parts of Dominica.
We motored with Daniel from P.A.Y.S. in his boat to the estuary and then Daniel cut the motor and started rowing the boat, to protect wildlife there. About a km we rowed through this fascinating mangrove.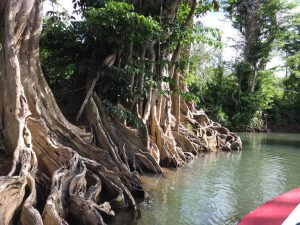 First time for me to enter a river in a rainforest and to be in the middle of a mangrove forrest. I felt kinda like Rambo.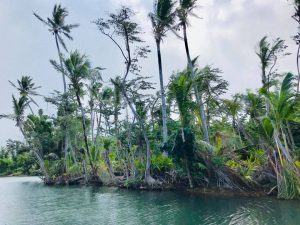 Daniel told us, that before Hurricane Maria (Sept 2017) hit Dominica, the river looked differently. At some places the trees were growing from the banks wide sideways over the river so that's you could hardly see the sky through them. Naturally, Maria didn't just destroy 80 or 90 % of the houses, but plantation and nature as well. We saw thousands of broken trees so far. Sad – to see palm trees without their treetops everywhere, not to speak about houses without rooftops.
Highly interesting place, too bad that Captain Jack Sparrow has left after shooting some sequences for the movies "Pirates of the Caribbean"(part 2 +3) exactly here on this Indian River.
So far this place has been used to appear in about twenty movies because of it's beauty and unspoiled life.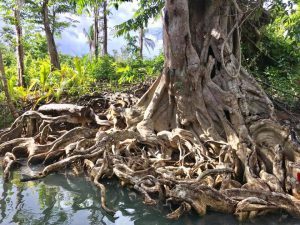 Don't know what picture to post – none of them did capture this peace of nature nowhere near.
You got to be there.
Nevertheless – I gave it a try.