Earth quake at Java, Indonesia.
Faule Haut facing a tsunami threat.
Faule Haut is currently anchoring at the southern coast of Java, Indonesia, about 110 km south of Jakarta.
We are expecting a charter guest tomorrow who arrived today in Jakarta by plane. She's staying at a hotel in Jakarta right now. Via WhatsApp she informed us this afternoon, that she felt an earthquake there and that some plaster fell down from the ceiling at her hotel room. At the same time our Indonesien friend Putu texted us via WhatsApp that there was an earthquake close to where we were, asking if we were ok. We checked the App "Earthquake" and saw that we were even a lot closer to the center than Jakarta. The center was 192 km away from us, right opposite of our coastline.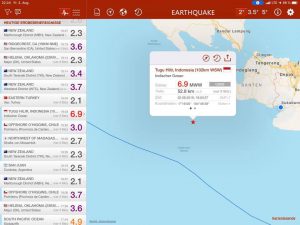 The blue spot shows our position on the map.
A fast look at the internet gave some more Information. They issued a tsunami warning saying that a three meter wave might reach the coast. We were anchoring about 200 m away from the coast in 6,5 m water depth. A wave of 3 m hight at sea would double or tripple its hight once it reaches shallower waters at the coast.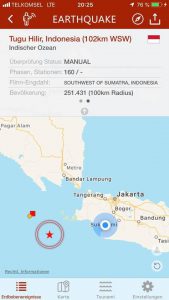 We got no information how much time we would have left till the wave reaches our shore. No more time left to search for information. We decided to raise the anchor quickly and leave our anchorage, heading towards the open sea.
But then – the sh!t really hit the fan – we could not get our anchor up. The chain was stuck under a rock of about 2 m in diameter. I knew this already, because I had dived down to the chain and anchor in the morning and had tried already to free the chain. It didn't work, so I thought it's no big deal, I can free it when we leave. But now we were in a hurry. My wife Gerdi and me tried to clear the chain, moving the boat in all directions. Gerdi at the steering, me at the bow at the anchor switch, directing her where to go. Didn't work.
It was dark already and I dived down with a light. The water is not very clear here because some rivers carry a lot of mud into the bay. Visibility in the morning was only about one and a half meter. But now with a torchlight in the dark a lot less.
We worked for about 35 minutes trying to get the anchor up. No chance.
The fact that we had no information about how much time we would have left, – when, at what time, the tsunami was expected to reach our coast, added big stress to our situation.
I did not have time for searching on the internet and called my friend Hans Diesel in Germany, told him our problem and asked him to search the net for us and collect some detailed news about this tsunami. At the same time I decided to give up our anchor, which means I was gonna let all my 100 m chain out and cut its connection to the boat. We knew the GPS position of our anchor and chain and would retrieve it later after the danger is over. Right when I was talking to Hans on the phone, our Indonesian friend texted us that the tsunami threat is announced cancelled.
Gerdi and me were relieved and happily thanked the Lord for another protection.
It looks like Faule Haut is made indestructible by heavenly forces.