The South African Router Des, send me this precious news, explaining in details the dangers along the South African cost.
I have therefore decided to wait for a safe time/weather to continue my cruise to Cape Town.
RICHARDS BAY TO CAPE TOWN
The coast from Rbay to Cape Town is considered the most lethal in the
world 2nd only to the Grand Banks off Nova Scotia for a very good
reason. In sustained SW\S 25-30kts over 24-36 hrs period the effects
of wind against current results in survival conditions and the number
of vessels and yachts lost on the coast due to rogue waves etc is legend.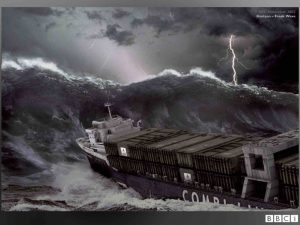 There is no excuse for getting caught in these conditions as
all the weather information you could ever need is freely available. Don't bargain on the current from Rbay to Durban for an extra boost as it has been playing hide and seek for ages. From Durban south it behaves itself being close inshore.
EAST LONDON is a river port and is pretty relaxed. The anchorage up
the river is below a road and rail bridge over the river and the metal
filings off the track wind up on your deck and rust spots are the
consequence. The Buffalo cruising club is very welcoming and friendly.
Shopping is a problem as walking or cycling into town through a high
crime area is not on so taxi or arrange a lift with one of the club
members. Unless you are into surfing or fishing it does not have much
going for it but a safe stop over. Believe a nice yachtie friendly
restaurant operates on the north bank of the river just past the
bridge.
.
PORT ELIZABETH is a great place just a pity that the marina which was
wrecked 10 yrs ago in a major NE/E blow has not been totally repaired.
The consequence is you wind up ramped onto a concrete wall in the
harbor with swell that regularly breaks mooring lines and rips winches
out of decks. Unless you are desperate not worth it – in addition you
are close to a manganese terminal in the harbor which in the SW parks
the dust on your deck
In recent times the club has been in disputes with the harbor
authorities over financial issues and rumors regularly do the rounds
that the club has been forced to shut down. Seriously recommend you
investigate closely before committing yourself.
KNYSNA is a problem as getting in through the Heads is pretty tricky –
in fact the Royal navy in years gone by used this entrance to train
their young captains – so that says it all. It's a pity because it is
a tremendous place and the local NSRI (National Sea Rescue) guys love
coming out to guide yachties in. However if the weather is not playing
the game and you have a heavy SW swell running it is suicide. In
addition at times the cold Benguella current from Cape Town side
ridges in and with warm air causes fog so thick you can't see the
front of your yacht whilst the guys at the yacht club are sitting in
clear skies and sunshine having a cold one.
MOSSEL BAY is your next option down the coast and when you look at
the charts you will see it gives good protection in SW/W on anchor
outside the harbor but is totally untenable the moment the wind swings
E/NE as it brings the SW swell kicked up by the SW wind into the
anchorage. The marina in the harbor is very small and can't
accommodate many and nothing more than15m LOA. A pity as the yacht
club is extremely welcoming and usually allows visiting yachts
anchored outside the harbor free access to the club house and
facilities. Contact them in advance to ensure they can accommodate you
and if so go for it. The other problem with MBay is that as soon as
the SW dies down you cannot stay in the anchorage due to swell
(dragging and anchor chains broken) and have to head for Cape Agulhas
which just having had a strong SW will have swell 5-6m to go into.
This usually flattens out quite quickly with E wind blowing but you
can't sit on anchor outside the harbor in the swell. A rock and a hard
place. As for Port Elizabeth there are constant rumors of conflict
between the authorities and the club relating to financial issues etc
so recommend you check with them before committing yourself.
SIMONS TOWN is the next destination en route to Cape Town. It is the
logical choice if you can't make it to CT in one go. Being in the NW
corner of False Bay very easy to get into with the dominant SE behind
you. A different story getting out as you have to leave on a SE so you
can have it from behind up the coast to CT. This entails a tough beat
in a pretty tight area for 20nm to round Cape Point. In addition if
the marina can't accommodate you, you have to anchor out and some
yachts in the past have had to endure 3-4m swells and broken anchor
chains etc
HOUT BAY just around the corner from Simons Town is the most
underrated and unknown stop over and is my personal favorite as it is
a short distance from Cape Town and easy to get in and out with a very
friendly yacht club. It is also more convenient to get to CT from
here. Space is limited and suggest you contact them in advance for a
berth.
CAPE AGULHAS TO CAPE TOWN
Due to the close proximity of a mountain range on the coast from MBay
to Cape Agulhas and Cape Town the forecasted wind speeds are
invariably exceeded. This is especially the case with False Bay on
approach to Simons Town when you can expect at least an additional
10-15kts over and above the f\cast speeds due to the compression zone
between the mountains. Wind up to SE60kts on a sunny day is not
exceptional.
Similarly you can expect wind sheer off the mountains between Cape
Point and Cape Town and due to their sudden and unexpected nature be
warned\ prepared. These gusts which are very localized can appear from
nowhere and add 15-20kts to normal wind speed.
IT IS NOT KNOWN AS THE "CAPE OF STORMS" FOR NOTHING!!