Faule Haut has passed the most challenging leg on her circumnavigation – the Mozambique Channel and the South African Coast between Richard's Bay and Port Elizabeth.
She is just speeding along the South African Coast, making 7.3 knots, and has just past Port Elizabeth.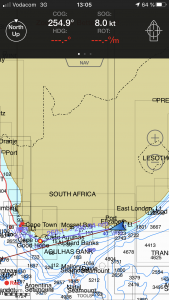 What comes now, will be a walk in the park compared to what she experienced within the last three weeks.
A great relief for Skipper Ingo and Crew Immanuel.
The forecast look as good as never before, which means a safe cruise from now on is expected.
Thank God for his protection through a bunch of ordeals.
There are 405 nm left to their next stop, which will be Cape Town, and they should get there in less than four days.