11.12.2019 13:20 local time
Sailing round the Cape right now. Faule Haut is just going round the southernmost point of South Africa.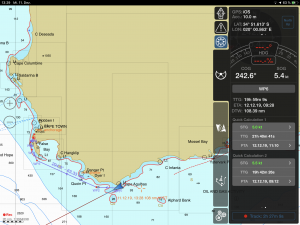 BUT – it is not Cape of Good Hope, as most people think. The southernmost point is Cape Agulhas. She has 108 nm left to go to Cape Town.
The last two days it was perfect sailing. She is making over 5 kn of speed and should reach Cape Town tomorrow afternoon. Skipper Ingo and Crew Immanuel are in high moods.