Now it's official. SY Faule Haut has come full circle at St. Lucia, Caribbean.
Sailing Yacht Faule Haut isn't back yet at her homeport at Vinaròs, Spain, which she has left on Nov. 4th, 2017, but she has completed her cruise all around the globe. She has been on her way now for two years, three months and five days (827 days total).
She left Rodney Bay, St. Lucia in the Caribbean on Mai 29, 2018 for her circumnavigation and has come full circle on Feb. 9, 2020, having sailed over 32.000 nautical miles since she left her home port in Spain.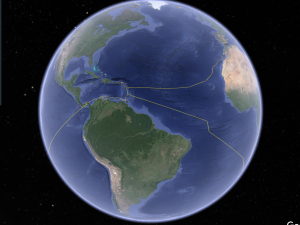 (Going around the world from Rodney Bay, St. Lucia to Rodney Bay, St. Lucia it took her one year, eight months and eleven days.)
First of all, I, Skipper Ingo, thank and praise my Lord Jesus, for his protection on this cruise and for this experience. Those of you that have been following my circumnavigation more closely know some of what I have gone through and remember several marginal situations and events that brought me close to loosing the boat and/or even more. I'm convinced, and I have felt and experienced that I and my yacht have been protected on this cruise by heavenly forces.
Second – I want to thank my wife Gerdi for giving me a vacation for almost three years (I am not back home yet; I expect to get back Aug./Sep. this year) and letting me make my dream come true. One in a hundred wives would be so understanding, sympathetic, generous and strong. I am the lucky one who got exactly that wife.
Gerdi – I love you. You are my number one. Thank you. I love you.
Together with two friends, Faule Haut left her home port Vinaròs on Nov. 4th, 2017 towards the Caribbean, reaching Guadeloupe on Dec. 23rd, 2017. After cruising for two weeks with some other German friends around Guadeloupe, Dominica and Martinique she did some extensive cruising, manned and commanded only by singlehand Skipper Ingo along the Lesser Antilles in the Caribbean, visiting Puerto Rico (picking up a guest for some legs) American Virgin Island, British Virgin Islands, Anguilla, Sint Maarten/Saint Martin, Saint Barthélemy (Saint Barts), Saba, Sint Eustatius (Statia), Saint Kitts and Nevis, Montserrat, Saint Lucia, Saint Vincent and the Grenadines (there S. Vincent, Bequia, Canouan, Mayreau, Union Island, Carriacou), Grenada, Trinidad and Tobago, Venezuela, the "ABC-Islands" Aruba, Bonair and Curaçao, Columbia and then Panama.
Via the Panama Canal she reached the Pacific Ocean and sailed straight to Pitcairn Island, (longest leg singlehanded, 4,250 nm, 39 days) visiting the descendants of the Mutineers of the Bounty. From there she continued to French Polynesia where she spent half a year, enjoying paradise, namely the most beautiful islands/atolls, among them Iles Gambier (Mangareva), Fakarava, Rangiroa, Moorea, Tahiti, Raiatea, Bora Bora and more, all belonging to French Polynesia.
From there she sailed to the Kingdom of Tonga, New Zealand, New Caledonia and Australia until she reached the Indian Ocean where she spent another 5 months visiting extensively Indonesia, Java, Bali (skipper's wife came on board), Mauritius, Réunion and South Africa.
At Durban in South Africa, a German fellow, Immanuel, joined Faule Haut for the crossing of the South Atlantic Ocean. He left Faule Haut at Barbados and from there Skipper Ingo sailed singlehand again further to St. Lucia, Caribbean.
But what about the Skipper?  – To circumnavigate around the world, almost all alone, singlehanded? – Is he entirely nuts? – What sense does that make? – What did he get out of it? – Has he gotten any wiser?
Well – he freely admits, that this was a very egoistic initiative that he started out of love for adventures and traveling and out of sheer curiosity to see many different countries on this earth.
He has become a vegetarian (still eating fish though) on this cruise.
No more wine drinking. He never drank other alcoholics than wine before, but he's a teetotaler now. No alcohol whatsoever. (You see – he's gotten wiser! He thinks this circumnavigation doubled his brain cells.)
But this is all of minor importance compared to his religious conviction and new experience. By studying the Bible for hours almost every day (you got lots of time on a boat circumnavigating alone, not being distracted by friends, neighbors, TV, city life, emails, news reports, Facebook and some other crap, living like an eremite somehow, over a period of 800 days), the skipper is convinced, that God sent him or allowed him to go on this lonely and secluded cruise to make new experiences with him which would draw him closer to God. God's plan worked out.
The skipper moved nearer to God and to Jesus and is convinced that the earth is experiencing its final stage, and that we are living at the end of time. Life on this earth will soon come to an end.
But this is no bad news. On the contrary. This is the best news ever. It has been prophesied long ago.
If you don't believe in God and think if God does exist, why doesn't he come down from heaven to show himself? The answer is, he did – but they nailed him on the cross.
Study the life Jesus, and you find out that the man Jesus, whom the Jews crucified two thousand years ago was no jerk, neither a dreamer nor a seducer, nor an idiot nor a maniac. He was indeed the son of God. He was the creator of the world and of mankind himself, sent, approved and endorsed by God to come down to this earth to show us the love and the character of God and to reconcile us sinners again with God, our creator and father. This same Jesus will come back soon as he has promised about two thousand years before, after his crucifixion and resurrection:
See John 14:
1 ) Let not your heart be troubled: believe in God, believe also in me.
2 ) In my Father's house are many mansions: if it were not so, I would have told you. I go to prepare a place for you.
3 ) And if I go and prepare a place for you, I will come again, and receive you unto myself; that where I am, there you may be also.
See also Acts 1:9-11
"And when he (Jesus) had spoken these things, while they beheld, he was taken up; and a cloud received him out of their sight.
And while they looked stedfastly toward heaven as he went up, behold, two men stood by them in white apparel;
which also said, You men of Galilee, why stand you gazing up into heaven? this same Jesus, which is taken up from you into heaven, shall so come in like manner as you have seen him go into heaven."
Yes – the skipper believes, that the second coming of Jesus is at hand.
Be on Jesus' side. Talk to him. Believe in him. Live your life with him. Trust in him. Love him, as he loves you, and he will reward you with everlasting life on a new earth that he creates for those who believe in him.
Get your Bibles out of your shelves. Start anew to read it. Time is short. Get prepared for the second coming of Jesus. You dont have anything to loose. You can only be a winner. Hand your life over to him, and receive his free gift, forgiveness of your sins and everlasting eternal life on a new earth.
Be among the righteous ones on the day of resurrection, which is soon to come, when Jesus opens the tombs and wakes up all the dead and brings back to life all those who had put his trust in him.
See 1. Thess. 4:16
"For the Lord himself shall descend from heaven with a shout, with the voice of the archangel, and with the trump of God: and the dead in Christ shall rise first."
Let him raise you from the dead and receive a new immortal incorruptible body from him when he comes back.
See 1. Cor. 15:52
"…in a moment, in the twinkling of an eye, at the last trump: for the trumpet shall sound, and the dead shall be raised incorruptible, and we shall be changed."
John 5:28-29
"Marvel not at this: for the hour is coming, in the which all that are in the graves shall hear his voice, and shall come forth; they that have done good, unto the resurrection of life; and they that have done evil, unto the resurrection of damnation."
The second coming of Jesus, will be as well the resurrection day.
Acts 2:38
"Then Peter said unto them, repent, and be baptized every one of you in the name of Jesus Christ for the remission of sins, and ye shall receive the gift of the Holy Ghost."
John 3:15-16
"…that whosoever believes in him should not perish, but have eternal life.
For God so loved the world, that he gave his only begotten Son, that whosoever believes in him should not perish, but have everlasting life."
Get prepared to meet Jesus. He will soon be back.
This is what the skipper believed before he started his cruise and this is what he is convinced of even more now after his extensive studies. Having been secluded and alone on the boat for weeks/months/years has helped to revive and strengthen his believe in these truths. He doesn't want you to parish on this day and urges you to take time, study the Bible and find the One that said:
John 14: 6
"…I am the way, the truth, and the life: no man comes to the Father, but by me."
May God bless you all to find him.
Skipper Ingo, on SY Faule Haut, Rodney Bay, St. Lucia, Caribbean