Faule Haut at home again, namely Guadeloupe (after having spent one night at Ile Les Saintes, between Dominica and Guadeloupe).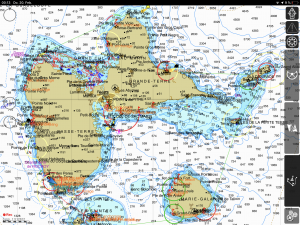 Skipper Ingo really feels at home at Guadeloupe because it's his fourth visit already. In 2017 he went down south along the Lesser Antilles with a German crew visiting a few islands. After that (2018) he sailed north again up to Puerto Rico, (visiting some islands for the second time) to pick up an American friend. With him he sailed south again (visiting the same islands the third time). After his circumnavigation he has reached St. Lucia and is now sailing the Lesser Antilles north again (visiting some islands for the fourth time). When his wife gets on board in March 2020  he will be going south again with her (visiting some islands the fifth time). And when the hurricane season start in June, he will be sailing north again towards Bermuda an will be on some islands for the sixth time. He can't but feel at home here.  Should he consider writing a tourist guide of the Lesser Antilles ?
And his visits were not limited by visiting just the coastal areas. With a friend he did some traveling inside the country.
He reached Guadeloupe (BassTerre)  on Feb. 19, 2020 and today (Feb. 20) he will keep on sailing north to pick up German friends at Sint Maarten next week. Next stop will be Deshaise, a beautiful bay on the northwest side of Guadeloupe. From there he will continue to Antigua and Barbuda to Sint Maarten/Saint Martin. If his wife agreed and joined him on the boat, he would stay here for a few years, because of the perfect climate and sailing/snorkeling/diving conditions. He loves the Caribbean. It's the perfect sailing area which is only outshined by the Southern Pacific Islands (especially French Polynesia, Tonga etc.).
Unfortunately it was raining when Faule Haut passed the most southern point of Guadeloupe, Pointe du Vieux-Fort.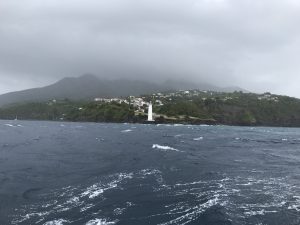 Usually the Skipper bakes his own healthy whole-grain bread on board. But today, having the advantage of being in a port, he chose to get a real French Baguette and croissant for breakfast. He spent last night in the port of Riviere Sens (Basse-Terre), because he needed to fill up his water tanks.