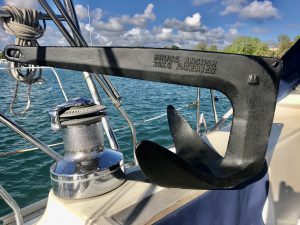 A few weeks ago when when I was anchoring at Simson Bay at Sint Maarten I dived down to my anchor to check if it has properly set. Close to my anchor I saw something in the mud that looked like another abandoned anchor. I decided to check it. I go up and put a rope on one of my fenders and with the other end of the rope I dived down again and attached it to the anchor. I pulled it up on my boat and first I thought it's not worth cleaning. It was totally covered with mussels. But when I got them off, it was clear that I had just found a little treasure. It took me a few days to get the rust off, but it was well worth it.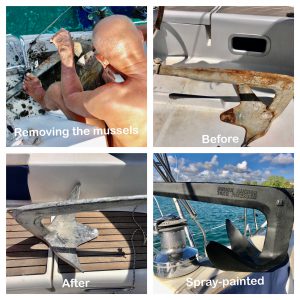 There is nothing wrong with it. It's in excellent shape and worth at least 400.- $US. This will replace the spare anchor that I have, because it's a lot better and has got the right size as well. Bruce Anchors are well known and have a good holding capacity.
On its fastening point this anchor had a broken shackle. Most likely the skipper who lost is wasn't able to dive down that deep (8 – 9 m) to retrieve it. Good for me. I wonder though, what happened to his boat. If somebody claims it's his, I don't give a darn. I put too much work in it. It's mine now.