3rd Atlantic Crossing.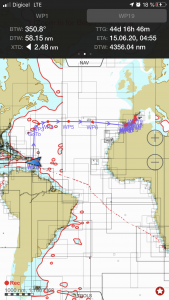 Singlehand Skipper Ingo is having the blues because he's leaving the Caribbean. All together in 2017/18/20 he has spent about 12 month there and enjoyed it up to the max. He loves the Caribbean and hopes to get back again some day.
After having circumnavigated, Faule Haut is sailing back to her homeport at Vinaròs, Spain. The Skipper is all excited now and looking forward to meeting his family soon in Germany.
Due to corona, Faule Haut might neither stop at the Azores nor at Gibraltar (depending on the situation at that time). Skipper Ingo will only sail close to the coastline to get internet connection via cell phone net to pick up weather data and post a position report for his family and friends. He will probably sail nonstop to his homeport. SY Faule Haut is prepared for a nonstop cruise.
Cruising Plan as of 01.05.2020
(nm = nautical mile    d = days)
(From Basse-Terre, Guadeloupe, Caribbean —> Vinaròs, Spain  4,364 nm total)
01.05.2020 departure Basse-Terre, Guadeloupe
2867 nm 28 d
29.05.2020 arrival Ponta Delgada, Azores
30.05.2020 departure Ponta Delgada
995 nm 10 d
10.06.2020 arrival Gibraltar
11.06.2020 departure Gibraltar
502 nm 11 d
22.06.2020 arrival homeport Vinaros, Spain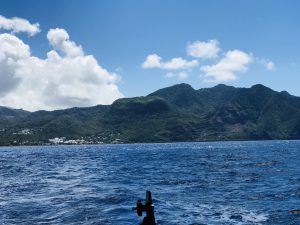 While Faule Haut is sailing along the coastline Skipper Ingo is posting this last view of Guadeloupe. Soon he will loose his internet connection and will be on the open sea. So be aware, that you won't hear anything from Faule Haut until she reaches the Azores and/or Spain.
Y'all stay safe.
Skipper Ingo on SY Faule Haut
1st of May, 2020  10:00 local time, 16:00 German Time
www.faule-haut.de