After her circumnavigation which she completed in July 2020, Faule Haut made two cruises from her homeport Vinaròs to Mallorca, Menorca and one cruise to Ibiza. After that, on Dec. 22, 2020 she left Vinaros again and sailed to Tenerife, Canary Islands. On bord was Skipper Ingo with a guest. The guest (who was supposed to sail all the way to Tenerife) turned out to be a dumb, useless and wicked guy and Skipper Ingo had to kick him off the boat at Cartagena (mainland Spain). That guy felt pissed and took revenge and even sabotaged Faule Haut by stealing/dismounting a part of the main winch on board so the winch could no be used manually any more, only electrically. This caused a lot of trouble during the 15 day cruise from Cartagena to Tenerife, because the Skipper experienced four days of rain and heavy storms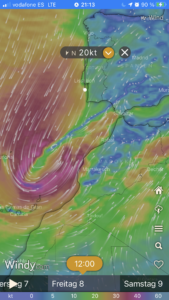 in a row, leaving his batteries uncharged by the photo voltaic panels. Batteries were drained by using the electric winch for days.
The Skipper was gonna start the motor to charge the batteries but the starter failed. It was broken.
Being unable to start the motor, Skipper Ingo set up his generator in the cockpit on three consecutive nights in the rain to charge his batteries. Batterie power was/is essential for the autopilot to work and for the electronic navigation systems.
So Skipper Ingo continued sailing singlehand to the Canary Islands reaching Tenerife on January 11, 2021, exhausted but safe and sound. Well – not really safe yet – because he could not start the motor. Getting close to the coast with a sailing yacht without having motor power can be pretty dangerous, so the skipper decided to set up a "Pan Pan Call" – a call for help. That Pan Pan Call was picked up by the "Salvavida Maritimo", the Spanish maritime rescue organization.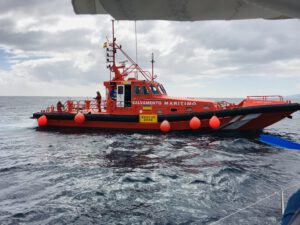 An hour later they came with their tug boat and pulled Faule Haut into the port of Santa Cruz.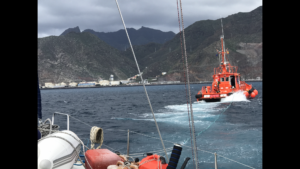 Luckily – already the next day – a new  starter was delivered from Las Palmas and was installed successfully by the skipper on the Volvo motor.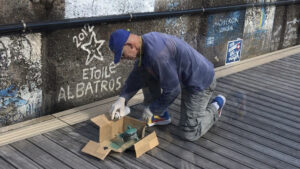 Two men crew flew in from Germany – Thorsten and Joel. These guys were so easy going, smart and a blessing for having them on the boat. We did some skipper training and had a wonderful time together.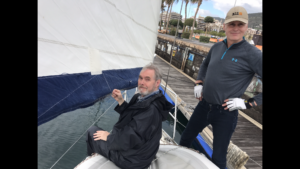 The genoa got a tear again. Joel and Thorsten did a great job to stich it with a patch.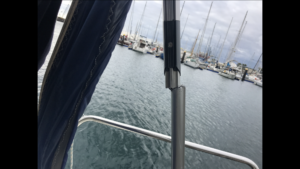 Unfortunately – the fock furler broke. So right now Faule Haut is waiting for spare parts again to get that fixed.
A few days later the crew flew back to Germany and Skipper Ingo's wife arrived on the same plane.
Since then, they lived happily ever after.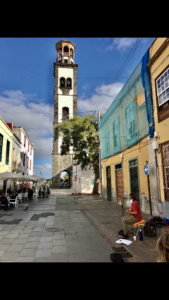 They sailed south, looking for a good anchorage, which they found at Las Galletas and later at Los Cristianos at the southern coast of Tenerife.