Faule Haut left Tenerife on April 12, 2021 heading for Gibraltar. She made a five day stop at Madeira, where she departured on April 22. After another six days of sailing she is nearing the southwest tip of Portugal, getting cell phone connection so that Skipper Ingo can make this post.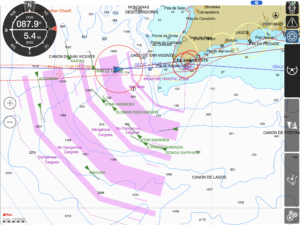 More important however is the possibility now to get weather information via the Internet. Faule Haut does not have a Satelliten phone on board. This makes sailing sometimes a lottery game because she can't avoid any bad weather areas and has to take the weather as it comes. Often, this resulted in encountering heavy thunderstorms and high waves. But the crew has been lucky on this leg. They just had rain for a few hours during this 17 days cruise from Tenerife.
Probably only two more days and Faule Haut will reach La Linea/Gibraltar, where the current crew will get off the boat. ETA (Estimated Time of Arrival) Gibraltar is Friday, April 30, 2021.
From Gibraltar on, Skipper Ingo will keep on sailing singlehand again towards his home port Vinaròs, 70 nm north of Valencia.
This means:
A GOOD OPPORTUNITY TO JOIN FAULE HAUL
TWO DOUBLE BERTH AVAILABLE ON FROM GIBRALTAR TO VINAROS (Valencia)
SAIL WITH FAULE HAUT! BECOME A PART OF THE CREW FOR A WEEK OR MORE.
Departure from La Linea/Gibraltar: May 1st or 2nd, 2021.
ETA Vinaros: May 5th, 2021
If potential crew wants, Faule Haut could make a three or four days stop at Ibiza or Mallorca.
More information about the boat on www.faule-haut.de and on
www.faule-haut.de/cruising-plan
Skipper Ingo, on Faule Haut, currently sailing along the southern coast of Portugal