Faule Haut spent two days at anchor after the crew made their required COVID Test.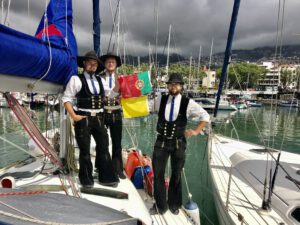 When the authorities send the negative test results via WhatsApp, the crew could take down the quarantine flag and pulled into the Port of Funchal for two days. After having spent four days at Madeira, Faule Haut just left the Marina Funchal, heading for La Linea/Gibraltar. Wind conditions are perfect, if the forecast is right.
Faule Haut should reach Gibraltar in about seven days. The crew (Ben, Till, Paul and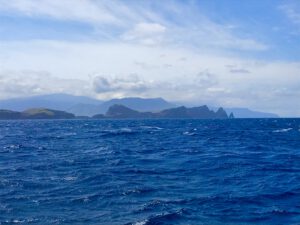 Skipper Ingo) might make a short stop at the Island of Porto Santo (belonging to the Archipelago Da Madeira) and anchor there for the night. They do have a real nice beach there. The current crew will get off the boat at Gibraltar. This means:
TWO DOUBLE BERTH AVAILABLE ON FROM GIBRALTAR TO VINAROS (Valencia)
SAIL WITH FAULE HAUT! BECOME A PART OF THE CREW FOR A WEEK OR MORE.
Departure from La Linea/Gibraltar: around 02.05.2021.
ETA Vinaros: 07.05.2021
If crew wants, Faule Haut could make a three or four days stop at Ibiza or Mallorca.
More information about the boat on www.faule-haut.de and on
www.faule-haut.de/cruising-plan
Skipper Ingo, on Faule Haut, currently leaving Madeira