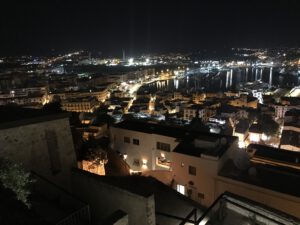 Skipper Ingo was scared not to get his genoa in time, because he has crew on board that has to get back to Mallorca in time to catch their flights and to take over new crew. But he just got news from the sailmaker that he will have the sail ready even a day earlier than expected.
What a relief for the skipper.
So instead of leaving tomorrow, Faule Haut just left her anchorage heading towards the mainland Spain, to Murcia to pick up her new genoa and leave the old one there for repair.
Faule Haut will leave Murcia on the 1st or 2nd July heading back to Mallorca.
THERE IS ONE DOUBLE BERTH AVAILABLE on from that time until the 27th of July.
SO WHY DONT YOU JOIN FAULE HAUT TO A CRUISE TO MALLORCA AND AROUND?!
Ask Skipper Ingo for more information via:
+491726610537
WHATSAPP,
MESSENGER or
SIGNAL
Take note that an answer might take a while, because on the Mediterranean there's no Internet.
Skipper Ingo on SY Faule Haut,
www.faule-haut.de
www.faule-haut.de/cruising-plan
Here are some pictures from the crew's visit of Ibiza City last night.