Faule Haut has reached Martinique on the 25th of December, 2021.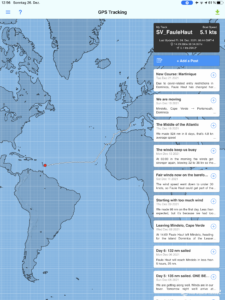 She will be sailing the Lesser Antilles south and north of Martinique until the end of June 2022.
Once in a while there will be places available on the boat for guests. If you are interested in sailing here, just contact Skipper Ingo.
At the end of June she will sail back to her homeport Vinaròs, Spain, via the Acores Islands. Here you could join as crew as well. The entire distance from the Caribbean to Vinaròs is 5,200 nm (travel time about 7 weeks). But you could join shorter legs, like from the Caribbean to the Acores, or from the Acores to Portugal or Gibraltar, or Gibraltar to Vinaròs.
Whenever you want to sail with me, you can always check where I am and what I have planned next.
See: www.faule-haut.de/cruising-plan
or check my current position.
https://forecast.predictwind.com/tracking/display/SV_FauleHaut/
If you are interested, let's communicate – preferably – via:
SIGNAL
MESSENGER oder
WHATSAPP
+49 1726610537
or
skipper@faule-haut.de
www.faule-haut.de
Skipper Ingo on SY Faule Haut